TBI: Church employee rang-up $80K in credit card charges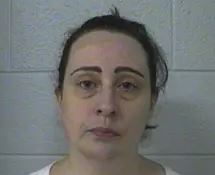 A TBI report says a Johnson City church worker was indicted by a grand jury and is accused of using an office-issued credit card to charge thousands of dollars in purchases.
Agents began their investigation in August into 44-year-old administrative assistant Ashlee White of Grace Fellowship Church. Their evidence showed White used that charge account over a 6-year period and racked up more than $80,000 in debt.
White surrendered to police and is charged with one count of theft of property over $60,000.
(MUGSHOT: Provided by TBI)