NEW: Several departments battle four-alarm fire at Buchanan County's Hurley High School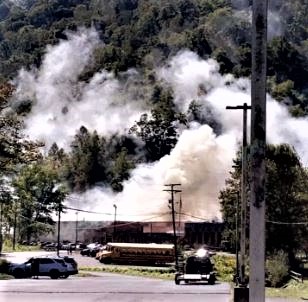 Buchanan County, Virginia Supervisor Trey Adkins confirms a four-alarm fire is being battled at Hurley High School.
Preliminary information we've received from eyewitnesses said the fire originated in the concession area near the gymnasium. Adkins said the difficulty several local firemen are facing is a blaze that spread into the roof of the structure.
Adkins noted all students and faculty have been evacuated from the facility and transported to nearby Hurley Middle School.
He noted that a school employee was injured and was taken to a local hospital for treatment.
(IMAGE: Courtesy of Beulah Blankenship / Special to Bristol Broadcasting Co News)